Description
More Power with the new 23.6MP sensor.
More clarity with 20MP Photo and 5K video capabilities. You can also snap a 14.7MP screen grab from the 5K video.
More stability HyperSmooth 3.0 available in all modes including 5K. HyperSmooth is our 'digital stabilisation'. HyperSmooth Boost now in all modes. Boost crops the picture slightly for better stability. Note: Boost was only available in only particular modes on Hero8.
More Screen(s) with a 16% larger rear touch screen and 1.4″ front display screen.
More Value with the case on purchase right out of the box.
More Battery 30% more battery in fact! New battery is 1720mAh, up from 1220mAh.
More Features – Hindsight, Scheduled and Duration capture added to Hero9 – these features not available on Hero8.
Please Note: Hero9 Black is slightly bigger than Hero8 Black.
Hero9 Black will have a new Dive Housing, Battery, Dual Battery, Sleeve & Lanyard & Floaty.
Hero8 Battery will not fit Hero9 Battery. As well – Hero9 Battery will not fit Hero8 camera
Brand
GoPro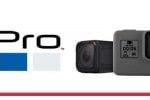 Only logged in customers who have purchased this product may leave a review.